The primary challenge for every new business is to win that first customer. Your product or service may be exceptional, but if its value proposition fails to attract customers, then there is no business.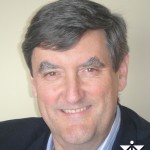 Once you've earned a customer's trust, the challenge shifts to retaining it. Your customer evaluates your relationship by asking: does your offering deliver the promised value? Is your quality reliable and your service personal? Are innovation and improvement, guided by their input, key components of your culture and your means for enhancing the value you offer? How do your offering and your people make a difference for them, contributing to their growth and progress?
Your first customers launch your business, but it's their enduring trust that sustains it.
Regardless of how big you've grown, your business lives on the street, with your customers. Preserving their trust compels that your highest priority remain what it was when your business was founded – appreciating what your customers value, and exploring how you may help them overcome their challenges to achieve their goals and aspirations.
During your journey, the need for better efficiency or higher productivity or reduced risk may seek to detour you away from your focus on market and customer. Achieving these objectives may be essential for your business, but beware that doing so doesn't compromise your value proposition, or distract from your highest priority of creating value for your customers. Ensuring that improvements to your business strengthen your customer's business, as well as yours, boosts your sustainability.
How do you stay informed about what your customers value and why?
How well synchronized are your sales growth and operating goals?