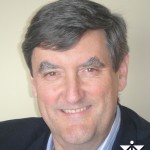 Today's market is more customer-driven than ever before. Everyone and everything is connected, everywhere and all the time. 
Companies with ready access to formidable technology or "big data" believe that this gives them an advantage, but in reality, high connectivity makes this access available to many. Technical advantage is not long sustainable, and the bulk of generated data is often produced by looking inward at the business, i.e. product margins, run rates, etc., rather than by looking outward at customer or market trends.
Your business lives on the street, with your customers. It always has, from its beginning, when getting that first order was essential. In this dynamic market, your customers' needs are continuously evolving, never quite reaching a steady state. What they value changes more frequently.
Those who are winning today anticipate disruption and drive productive change rather than relentlessly adapting to it. Their leaders encourage their personnel to discover what customers value and empower them to challenge what is possible. They cultivate internal entrepreneurship, commitment and shared ownership, encouraging individuals to collaborate in small, agile and cross-functional teams to improve and innovate.
They stoke this sense of ownership by transparently sharing information with these teams that links their contributions with the resulting benefits produced. They nimbly utilize the technology and data available to them to accelerate their customers' progress, enabling their people to realize how each makes a difference for customers and the business. And they stress how those who invest their energy and talents to make something better create personal growth opportunities for themselves.
The customer-driven market is the future of business. Prevailing in it belongs to those who challenge the status quo, cultivate collaboration and drive productive change.
How is your business impacted by the customer-driven market?
What changes must be made to sustain your success
in this rapidly evolving market?