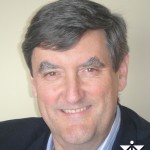 We interact with this world through our five senses. We are feeling beings who think, not thinkers who feel. When you care about someone else, you are invested them – what happens to them, happens to you.
When your child is recognized for an accomplishment, you feel the pride that they feel.

When something bad happens to your good friend, you feel the pain they feel.

When your employee or associate is acknowledged for achieving a goal,
you enjoy the satisfaction they feel.
The same is true for those who care about you. What happens to you, happens to them.
This is the essence of cherished relationships – one part responsibility and one part blessing. Our relationships are the core of our being, helping us understand the meaning of our lives. They are a mirror in which what we value is reflected.
On this Thanksgiving, take time to remember the blessings of your relationships. Be thankful for the love of God, family and friends. Remember those who protect us and those who have sacrificed everything because they cared. Be thankful for your business associates, customers and other business stakeholders who share the challenges and rewards of your work. Celebrate all those who make our lives exceptional and worthwhile.
Thanksgiving is a remarkable holiday with a profoundly simple purpose –
may your Thanksgiving be filled with joy for the blessings in your life.
---
Accelerate your company's growth
216-272-4449