BRUNSWICK, OHIO, February 8, 2016 – Columbia Chemical, one of the world's largest manufacturers of specialty chemicals for the surface finishing industry, recently completed a one-year training program in customer partnering strategies with Grolistic GrowthPointe Services. The purpose was to train Columbia Chemical sales and technical people in "Earning Preference" from customers.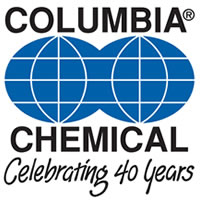 According to Sales Manager Tom Alderson, the Columbia team received customized, comprehensive training extended over four quarterly sessions.
"Bob Schultek, managing principal of Grolistic, evaluated how the existing selling process for our company could support or constrain growth. He interviewed our sales personnel to gather their input on what was working in the current process, what could get better and what might be constraining their sales growth," Tom explained. "Using this Summary Assessment Report, Schultek and our senior management team collaborated to craft a customized sales growth program for Columbia."
Each quarterly workshop involved group activity and included a portion dedicated to discussing challenging sales situations; role plays were used in the final workshop to facilitate implementation. Between the quarterly sessions, Schultek followed up with each participant to answer questions and provide counsel on utilizing the learned strategy and tactics.
"Grolistic helped us strengthen our selling process and our customer relationships by demonstrating how Columbia Chemical's products and services add value to our customers' business, helping them achieve their growth goals," Alderson said.
He added, "Our goal is to sustain engagement and reinforce what was learned. Grolistic accomplishes this by providing counsel and coaching on strategy implementation with our Columbia Chemical team for three additional months."
Columbia Chemical has experienced steady growth since its beginnings in 1975; a goal of deeper partnerships with customers kindled the contract with Grolistic. The introduction of a new product line has prompted the company to consider another investment with Grolistic for a sales training program to support this product launch.
Grolistic works with business leaders to implement a No-Excuses Growth Strategy that produces sustainable business growth. Columbia Chemical is one of the world's largest manufacturers of surface finishing additives. For more information, contact Columbia Chemical Corporation, 1000 Western Drive, Brunswick, OH 44212, 330/225-3200, www.columbiachemical.com.