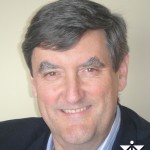 So goes the common refrain from eager new sales people whose primary responsibility is to find new customers.
Here are three ways to breakthrough and get meetings with prospects:
Plan your attack.  Prospects don't care about your product or service – they care only about the value you can produce for them.  Rather than knocking on any door you see, identify target prospects within market niches successfully served by your company.  Learn how your product or service has produced a quantifiable financial advantage for other customers in this market and share that (non-confidential) knowledge with your prospect rather than pitching what you offer.  When you follow-up with them, ask about some item in their news and keep seeking ways to demonstrate that you want to help them achieve their goals.  When a need arises for them, they will remember you and you'll get a meeting.  Make it always about them.
Pursue referrals.  Build referral requests into your sales process.  If you sell someone a great product or give them great service, particularly if you have gone 'above and beyond' expectations to help them, then they will be ready to help you in return by offering a good referral.  An emotional connection is formed when someone buys from you, making the buyer more willing to help you – it helps justify why he or she chose to work with you.  Even after your efforts have been rejected, it's a great time to ask for a referral.  That moment provides an opportunity for the prospect to offer you something for your efforts.
Engage with the prospects' community.  Attend local industry meetings and join in conversations.  Don't go around handing out your business cards and don't ask who might want your product or service – this is selfish, disingenuous behavior that discourages relationship building.  Seek ways to help, contribute your time or share knowledge.  When the right time arrives to make inquiries, ask who has the type of problems that your product or service resolves.  The other person is much more likely to know this.  Frame your questions like these: "Who do you know who is having product reliability issues" or "can you think of someone here who is having computer support problems?"
How can you increase your meetings with prospects?
How can you be partner rather than peddler?
---
Contact admin@grolistic.com for a complimentary growth assessment, and to schedule a
No-Excuses Growth workshop at your site.