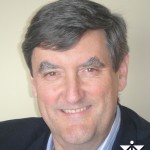 Few strategies are actually implemented as planned. Circumstances inevitably arise to disrupt the best of plans. Every experienced business leader understands this reality, and the need to adapt.
With this certainty of uncertainty, what then makes the difference? What produces success?
Business planning is still an essential, productive exercise. But leaders recognize that it's the planning process that is most valuable, not the plan document that emerges.  The process of developing the plan engages leaders from every function of the organization to specify shared goals and coordinated actions to achieve them. When unforeseen events drive a re-assessment of strategy, then adapting to the changed environment is more rapidly achieved when those that originally built the plan collaborate to refine it and engage with their people to alter its implementation.
In the military, preparing for contingencies and training people to rapidly adapt is a proven discipline. Experience has taught that well-trained personnel who understand their mission and are committed to accomplishing it will leverage their skills, initiative and teamwork to overcome unexpected barriers and accomplish their objectives in the field.
Similarly, business leaders challenged with reacting to unpredictability can accelerate their rate of adaptation and increase their probability of success by relying on their people. The leaders who created the original plan have the skills, goal awareness, and bond to promptly refine strategies when unexpected circumstances arise. But those strategies can fail when the people implementing them are not prepared by their leaders to adapt appropriately, urgently and efficiently to the revised strategy, particularly in situations where management direction is not readily available.
Businesses do not succeed solely through the actions of their leaders – success is produced when dedicated individuals working within the organization resolve a problem or fulfill a promise or implement a strategy because they understand the Company's purpose, and have been trained to act consistently and robustly in accordance with it. Your people are your most sustainable competitive advantage.
How do you ensure that your personnel perform in accordance with your purpose?
What are you doing to prepare your people for strategy implementation & adaptation?